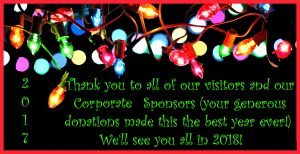 Another season has come to an end and last night was the final lighting of the Butler Pike extravaganza.  This has been an incredible season with so many firsts. This was the first year we offered local businesses corporate sponsorships to get in on the Holiday giving (Ambler Pizza, Fireside bar & Grille, Graybar Electric, C&C Tech Group, Ciavarelli Family Funeral Homes, Goldfish Swim School, TigerPaw, Benefit Consulting Group, Berk-Tek, and Ebner's Auto all were proud to come on board). Offering Bus Trip reservations to local retirement communities was another first that was a fan favorite! John Deere Gator rides for visitors with mobility issues was another first.
Some returning traditions included proposals, carriage pictures, children's smiles and we know the parking struggle is real!
As far as donations are concerned, between sponsorships, a successful Skate with Santa and your more than generous offerings in the red pots…we are on track to have our best year ever. That will make the folks at the Kevin From Heaven Foundation extremely happy as they will be able to increase the number of families in crisis they can aid.
Owner Jack Yoast, Ambassador of lights Jay Rejniak, the entire crew at Acteon Networks and all the other volunteers that make up Light Up A Life, want to thank each and every one of you that came out, threw a few bucks in the bin, spread the word and ultimately played a part in helping families in need this holiday season.
We hope to see you all back in 2018.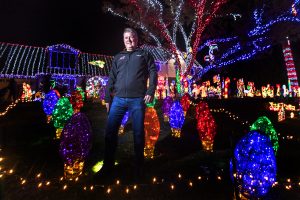 Some things you may not know about Light Up A Life's mastermind, Jack Yoast.
He doesn't use the money in the donation baskets to pay his electric bill or reimburse himself for the ever growing displays…he gives 100% to charity.
It all started with a plan to impress his daughter.
Every year he promises his long suffering wife that this year will be the last.
This year's Light Up A Life's Skating with Santa was a HUGE success! The
Rink at Old York Road
graciously donated the ice and rink for the event. Held on a rainy Saturday, December 23rd, we had in excess of 125 people come out to skate with St. Nick! Santa was more than happy to listen to requests, take pictures and even race the kids that were willing to rink getting coal if he lost! It was wonderful to see so many families there skating and laughing together for a good cause! All proceeds from the evening will be going to the Kevin From Heaven Foundation to support local families that find themselves in Crisis. We were absolutely thrilled to learn that so many of you look forward to this event and some even forgo the trip to the mall to see Santa because they prefer to see him on skates. We look forward to hosting you all again next year and hope we'll have some additional characters join the Big Man.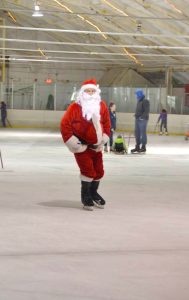 Acteon Networks and Light Up A Life is once again sponsoring a "SKATING WITH SANTA" event at The Rink at Old York Road (8120 Old York Rd, Elkins Park, PA 19027).
You can look forward to 2 hours on the ice with St. Nick (in past years, Elsa and The Grinch have made surprise appearances!) Santa even brings his chair, so you can sit on his lap to tell him your list! There will be pizza, hot chocolate and coffee available. The rink has video games and air hockey. Proceeds from this season's Santa Skate are going to local charity: The Kevin From Heaven Foundation!
You can bring your own skates or borrow some at the Rink. Dress warm and come out for a magical night with Santa…for a wonderful, local cause!!!
Help us Light Up Lives!
You can find the Facebook event page here: Light Up A Life and Acteon's Skating with Santa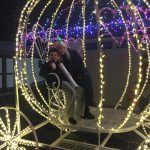 Looking for a place to pop the question? No, not "What do you want for dinner?…" The WILL YOU MARRY ME?! question or the WILL YOU GO TO THE PROM WITH ME?! question or even the "Want to go to Disney World?!"
Well, don't fret, our lighted Cinderella Carriage and horse is the perfect place for Proposals and Prom-posals and all sorts of fun questions.
If you let us know ahead of time, we'll even try to ensure the magical ride is free for you!
Email us at LUAL@ACTEON.NET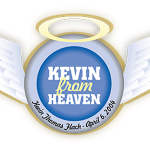 This year's recipients of the annual Light up a Life Holiday Light Show donations will be the
Kevin From Heaven Foundation
.
Kevin From Heaven was founded after a tragic accident left the Flach family wanting to help those that found themselves in a similar situation. The do this by providing assistance to those who are facing life altering events and who require assistance in overcoming the challenges they face.
From their webpage: "As a family, a community and a Foundation, we now reach out, confident that Kevin's death will continue to serve a higher, more important purpose. We hope that we will all be inspired to emulate Kevin's wonderful examples of character; to be more quiet and become better listeners for those who need to talk, to be a loyal and dependable friend to someone in need, and to remain a competitive spirit and to strive to persevere under even the most difficult of circumstances. While we know, as a Foundation, that we can't change events of the past or bring back loved ones who are missed, we hope that through reaching out to others, we can make a small difference in someone's life. Our goal, is that perhaps, in someone's deepest moment of despair and sorrow, that they may find comfort and inspiration in Kevin's quiet whisper of "Keep the Phaith."
Light up a Life is proud to partner with Kevin from Heaven this season!